WHAT'S IN THE BOX?
Your new GTR Bamboo 2in1
Fast charger
R2 Remote, leash, remote case and charging cable
Accessories carry case
Y tool
Spare screws set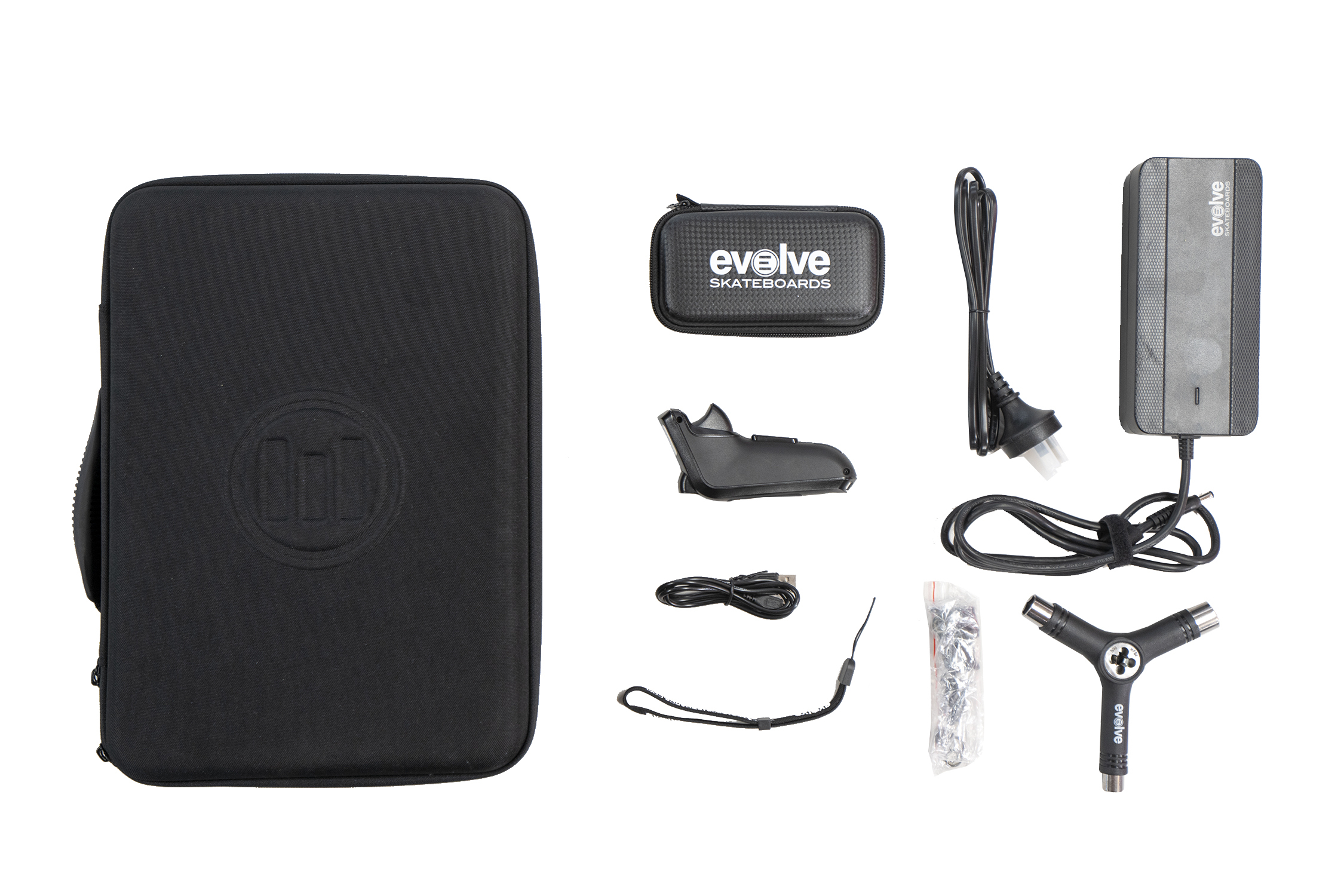 What Are Riders Saying About The GTR All Terain
I recommend this product
Product Standouts
Battery Life
Versatility
Technology
Evolve GTR bamboo
I'm new to electric skateboards but chose the GTR after watching Evolve's detailed product development video released on YouTube at the same time the product was launched. This convinced me Evolve were making a quality product and having now rode one for 200km on a dozen rides both on and off road I am 100% satisfied.
| | |
| --- | --- |
| Quality | |
| Performance | |
| Technology & Features | |
I recommend this product
Product Standouts
Performance
Versatility
Quality of Components
Technology
Power
I love ,my Evolve Skateboard
As a decaying old surfer I was anxious about buying an electric skateboard. I thought that it might be a big waste of money on something I could not use. I was wrong. Dealing with Brenton at the Auckland Evolve Office made the difference for me. He let me try several different boards and I walked away with a well set up Bamboo board that I just love riding. I get to "surf" on the paths and sloping verges around my home each day with more safety, enjoyment, and satisfaction than I ever had on my long boards. I not only can control my "downhill surf" but I get to "surf" back up the hills to do it all again. Highly recommended fun- encouraged from Justin at aOakura Bay "Fish, Dive & Cruise".
| | |
| --- | --- |
| Quality | |
| Performance | |
| Technology & Features | |
I recommend this product
Product Standouts
Power
Battery Life
Performance
Quality of Components
Technology
| | |
| --- | --- |
| Quality | |
| Performance | |
| Technology & Features | |
I recommend this product
Product Standouts
Performance
Versatility
Quality of Components
Just wow
I've tried electric boards before, nothing has compared to my GTR - this thing is amazing. Wether it's hills, roads, tracks through the woods nothing can stop you carving around like you're on a hoverboard from back to the future. Epic
| | |
| --- | --- |
| Quality | |
| Performance | |
| Technology & Features | |
I recommend this product
Product Standouts
Quality of Components
Performance
Visual Look
Battery Life
Technology
Gtr bamboo 2in1
Never been interested in skate boards till I saw this, but I absolutely love it, it comes really well boxed nice case for bits and the speed is crazy can't recommend it more
| | |
| --- | --- |
| Quality | |
| Performance | |
| Technology & Features | |
Customers Who Bought This Item Also Bought