GTR Bamboo Street
**We'll throw in a FREE CHRISTMAS PACK with every board purchased while stocks last. 

Ends 25/12/19.
 (PLEASE NOTE Pack includes t-shirt, sunglasses, keyring and hat. No exchanges or returns. T-shirt size and sunglasses colour preference can be added as a comment during checkout but will depend on stock levels)**
Inspired by the build quality, performance and superior comfort of a classic muscle car, the Bamboo GTR marries the best features of old-school deck craftsmanship with the latest technology to produce the ultimate fun machine. Pimped with our newly forged aluminium 'Super Carve' trucks for the ultimate riding experience no compromise has been made when it comes to strength, durability and ride quality.
The Tech
Our new patent pending Power Flex battery technology and the best 18650 lithium ion battery cells available provide you with real-world range of up to 50km per charge, turning any road or path into the endless wave of your dreams. This coupled with Bluetooth communication is a game changer for Evolve skateboards as it provides instant power and ultra smooth acceleration and braking performance, placing the ultimate in intuitive riding control in your hands.  With 3000 watts of twin brushless sensored motor power driving our new made in USA Evolve GT 97mm inline race formula wheels, smooth yet responsive performance is at the heart of this machine.
The Ride
If you've skated before you'll appreciate the pop in this deck thanks to our new relationship with one of the most premium deck manufactures in the skateboard world. The GTR deck is constructed of bamboo with the addition of fibreglass which puts you in the goldilocks zone for flex and strength. Adjust the drop through truck position to make them closer or further apart to dial in your ride and enjoy the low profile feel, just the way you like it. Whether you're into short and sharp or long and deep carving our bamboo deck has a classic longboard vibe and will give you a softer feeling under foot.  But don't let that fool you, coupled with our street wheels this board is like a cheetah unleashed. Super fast, gripy and smooth, the Bamboo GTR Street is responsive yet nimble and it likes to eat hills for breakfast. Corners will turn into apexes, open stretched into runways, and wide open paths will make your list of favourite powder runs!
Optional Extras
The Evolve Bamboo GTR Street offers even more flexibility for the riding enthusiast than ever before with 2 power USB ports and a new airline friendly swappable battery option for those who want to take their Evolve boards with them when travelling. Now you can also track and share your rides and compete against the world wide community on the new Explore by Evolveapp, along with over the air updates for IOS and Android phones. Unlike other boards on the market the Bamboo GTR Street is compatible with our All Terrain Kit which completely changes the feeling by opening up a world of new paths for you to explore. 
The Remote
The Evolve Bamboo GTR street offers more riding modes than ever before allowing riders of any level to safely enjoy the product and have the ability to adjust your riding mode while riding to suit conditions and maximize efficiency.  Use 'ECO' mode for easy control and a safe top speed, perfect for beginners and those ridings wanting a relaxed ride with longest ride times.  Use 'PRO' mode to whizz past traffic and turn your commute into your daily adrenaline rush hour, and if you dare, switch to GTR mode to unleash insane power and acceleration with the ability to climb hills of up to 25% gradient.  For those that want a power curve that is different to ECO/PRO/GTR modes, select CUST (custom) mode on the remote, then open up the Explore by Evolve App and dial in the power curve to suit your riding style.  In this mode you can adjust the power to be weaker or even stronger than the stock speed mode settings that come with the R2 remote. 
Feel the Difference. 
What's in the box?
Evolve Bamboo GTR Street Skateboard

Evolve Carry Case containing – R2 BT remote, Fast charger, Y-Tool, Spare screws

Manual and sticker pack
WHAT'S IN THE BOX?
Your new GTR Bamboo Street
Fast charger
R2 Remote, leash, remote case and charging cable
Accessories carry case
Y tool
Spare screws set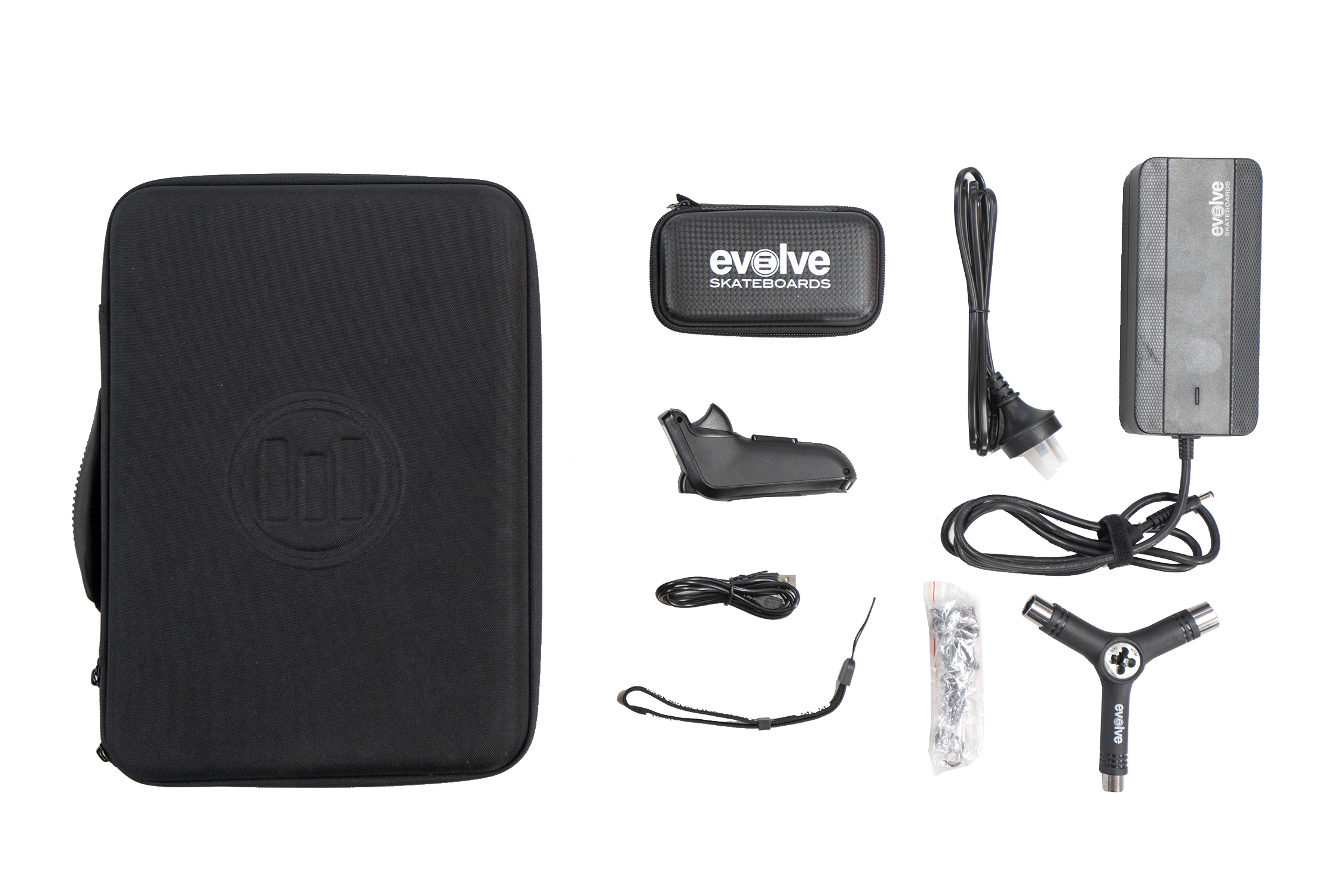 CUSTOMER REVIEWS
100%
of reviewers would recommend this product to a friend
| | |
| --- | --- |
| Quality | |
| Performance | |
| Technology & Features | |
Just Rad
I'm getting on. So it's been a while since I skated properly but I was into my long boarding "back in the day"
You see the thing that my generation is really waiting for are hover boards. The reality is we are now in our 40s and despite the rapid pace of progress still... No hover boards! I know right!?
So now it's a question of when will we get hover boards... I mean this tech may not be available till I'm in my 70s.
This Deck is a perfect fill in. Very little learning curve, increadbly stable and comfortable to ride (Bamboo GT) and long range. The speed is good not over the top compared to slamming a hill on a long board, but still a lot of fun and crucially I will be able to use this into my latter years so I'm ready when decks go wheeless!
At this products price point I am basically it's target demographic, disposable income an having a mid life crisis. And I'm telling you they have nailed me to this Deck!
So pop a Viagra grab out your pads and let's start a middle-aged skater gang! This is the one you want!
Dad in the cube!
| | |
| --- | --- |
| Quality | |
| Performance | |
| Technology & Features | |