Why Choose Evolve?
Evolve Skateboards was born in Australia in 2010 through sheer passion and obsession for finding the link between snowboarding, surfing and all things carving on land and is one of the longest standing electric skateboarding companies.
Evolve Skateboards have been innovating electric skateboard technology for 8 years and was the first company to bring premium boards to the market. We have lead the way in creating a new generation of high performance electric skateboards designed for carving and cruising, not just to be used as a last mile of transport but a sleek machine that will make you want to take the long way home. Years have been spent meticulously considering, designing, testing and optimizing every part of our boards, with all our parts custom made, something we still do to this day. You will not find our parts or components on any other electric skateboard.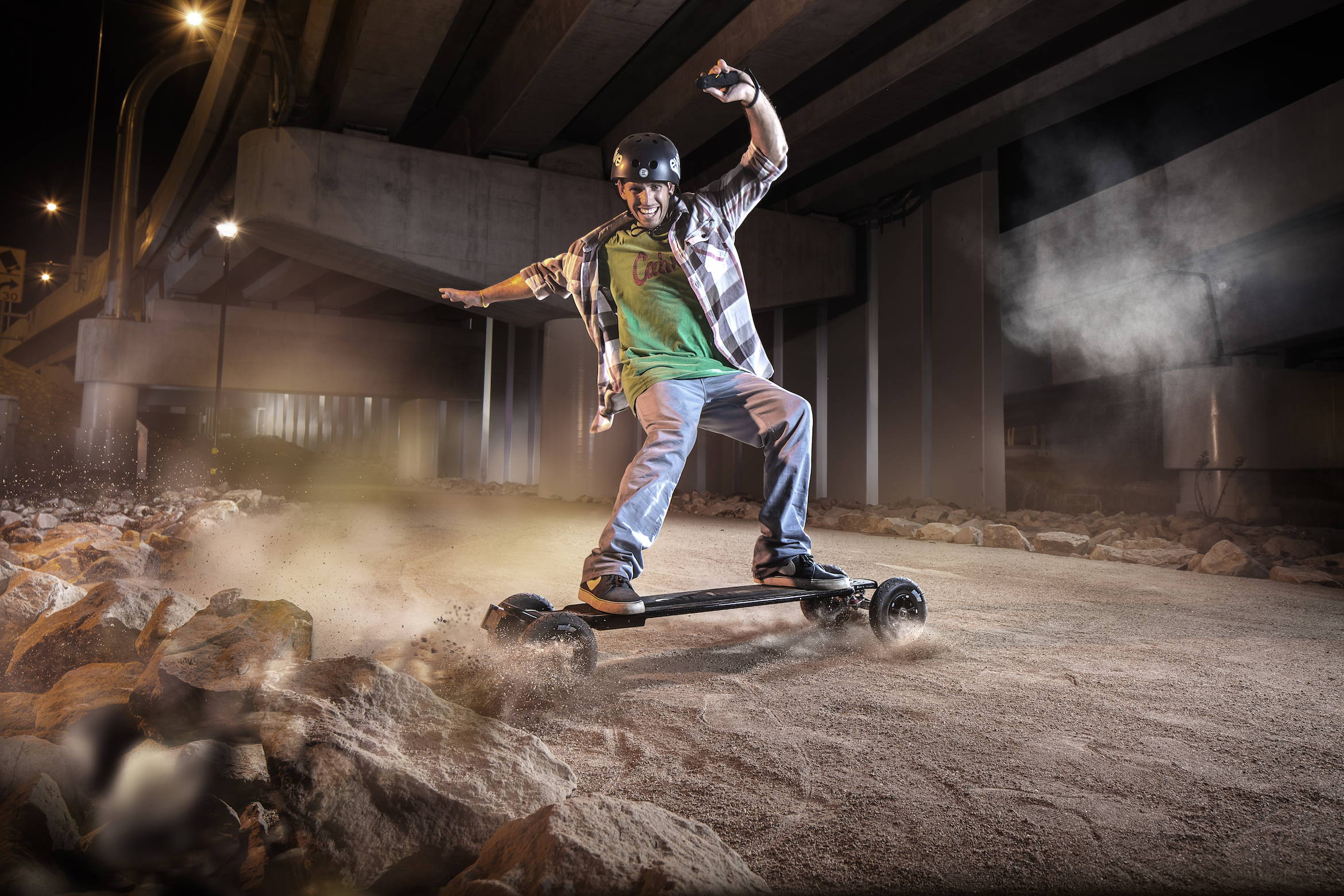 PERFORMANCE
Our boards will out-carve any other electric skateboard on the market by miles. If you want to surf or snowboard on land then look no further. Our custom made super carve truck can be dialled in to any form of riding style, from deep carves to sidewalk surfing to insane speed riding. Further tweaking is possible with a variety of bushes that are compatible with our boards.
We use large powerful lithium ion batteries which assist in ride times of up to 50km/30miles so you'll never suffer from range anxiety. Our GT street boards have even powered up the steepest street in the world!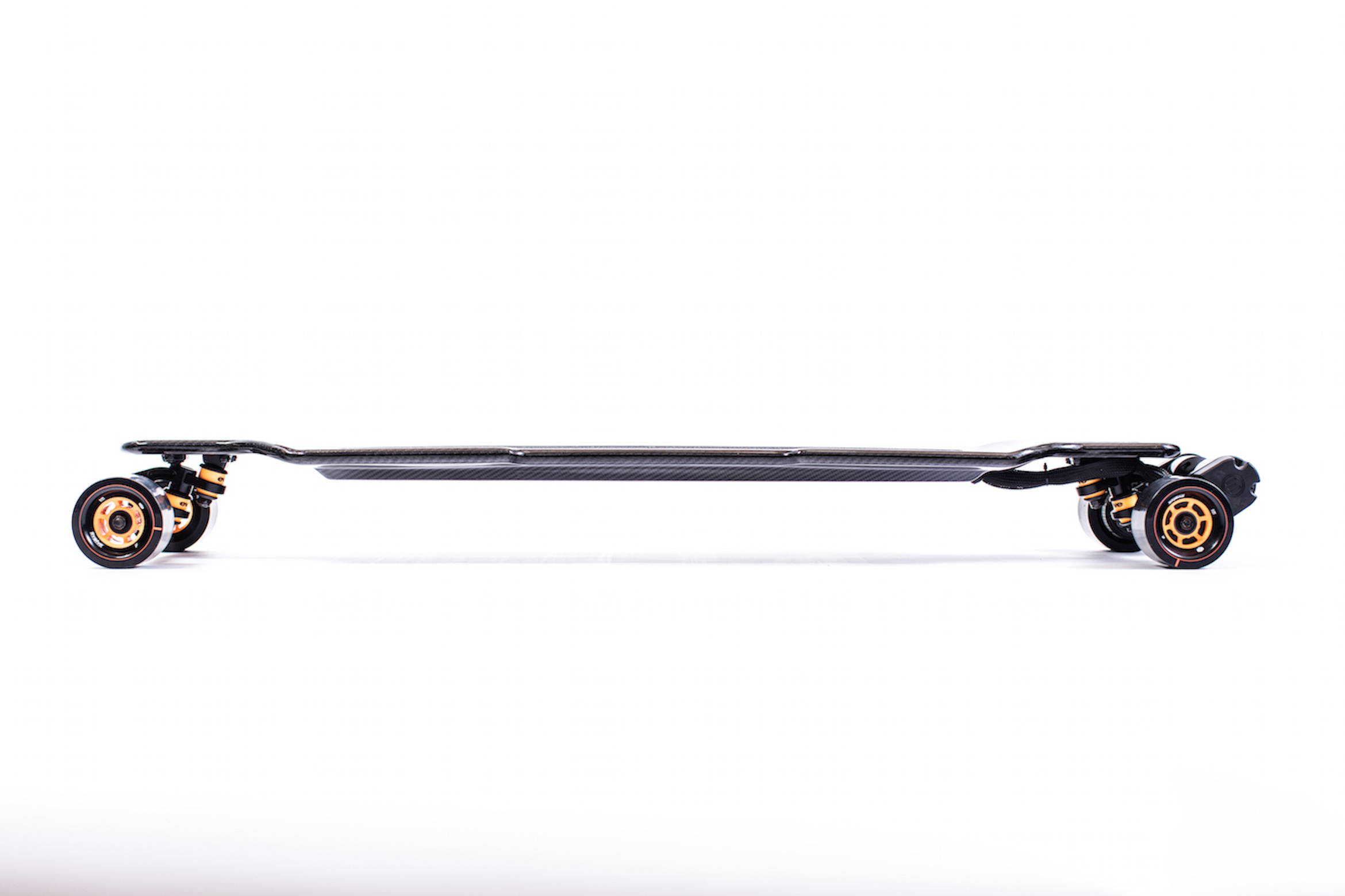 DESIGN
With bamboo and carbon deck options to suit any taste the main feature that sets Evolve apart is our 2in1 truck system design. This makes every Evolve board extremely versatile with wheel and gear customisation that suits any riding condition and preference. We were the first and are still the only electric skateboard that can be easily changed from a street board to an all terrain board in minutes. We were also the first to create a carbon fibre deck that encloses the battery and electrics which won us two international design awards. With a design philosophy to create boards that embody a minimalist design packed with performance we are always innovating and bringing new product features and designs to the market.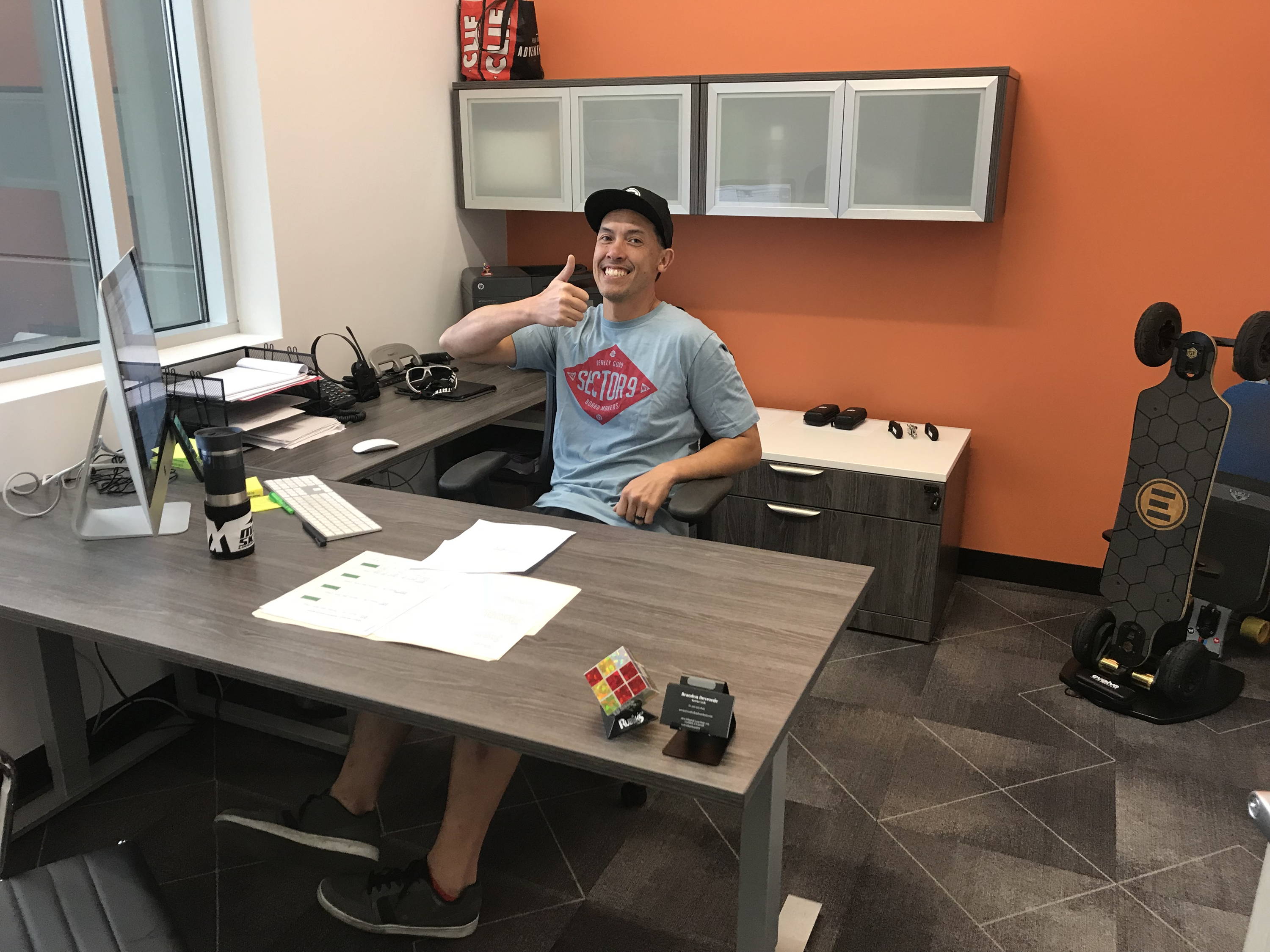 INTERNATIONAL SUPPORT
With 12 international sales and support centres now servicing over 30 countries, Evolve Skateboards are enjoyed by riders around the world. What began as one man's determination to build the best board on the market has grown into a worldwide community of passionate skaters. We now have service centres around the globe, making it easier than ever to contact us.
You can choose how you want to communicate with us- whether it be in person, via phone, live website chat, email, or social media. You can visit us for a test ride, learn more about the products, or even have your board serviced on-site. We are proud to offer a support team that can deliver the right solution both locally and internationally to all partners and customers.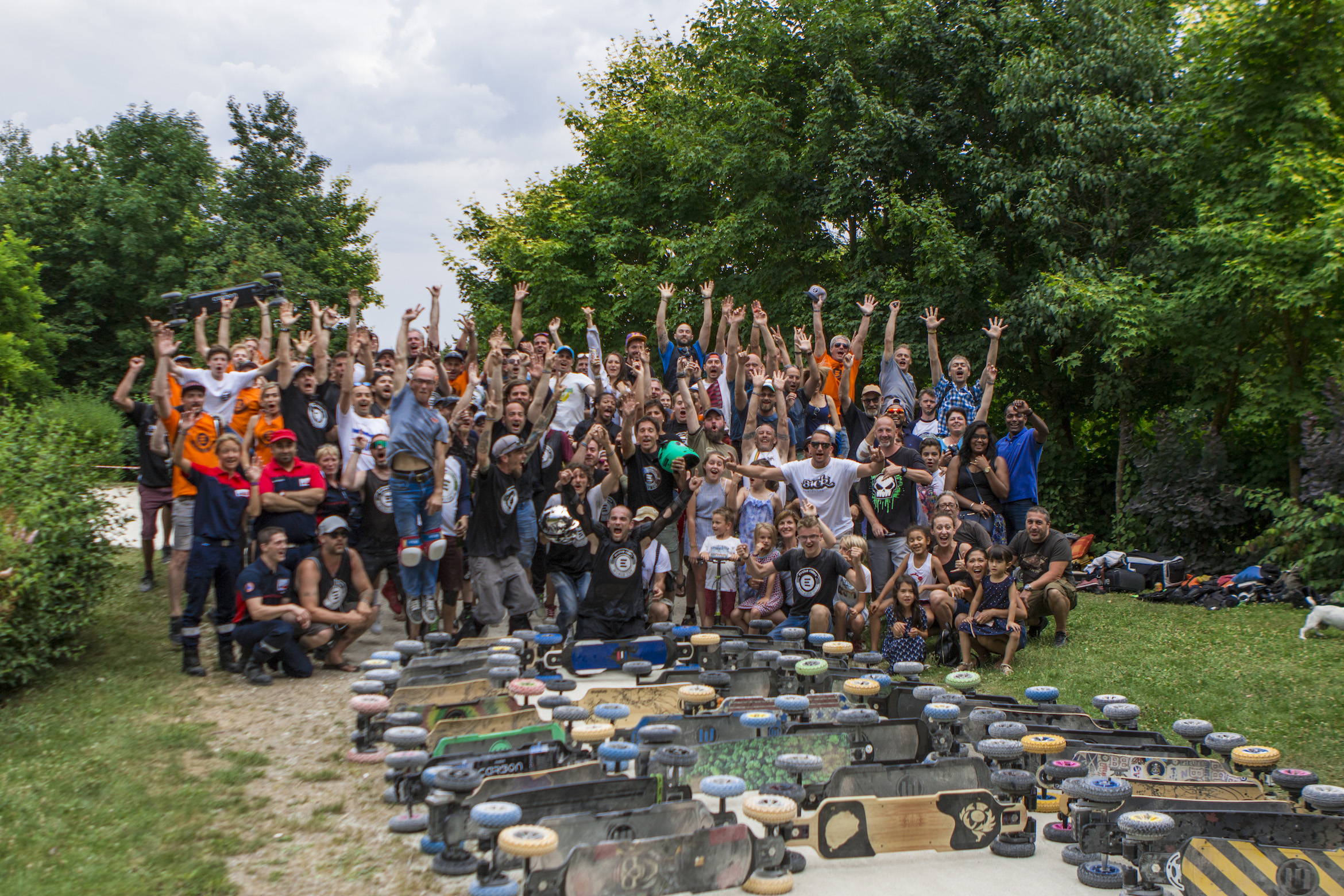 COMMUNITY
From the annual Evolve Riders World Cup to group rides around the world, our community has grown immensely in the past few years. In 2015, we introduced the ER World Cup, an event that brings together riders from around the globe. Our YouTube series 'Evolve Weekly' regularly features videos submitted from riders around the world. Evolve Insider was launched in mid 2017, and through both global and regional editions, shares rider profiles, news, product updates, tips, and featured riders.
With many Evolve riders groups being created by customers online and in locations around the world you can connect with like minded people to share your favourite places to ride, tips, questions and love of electric skateboarding. Many customers have forged friendships around the world and we love watching the community grow!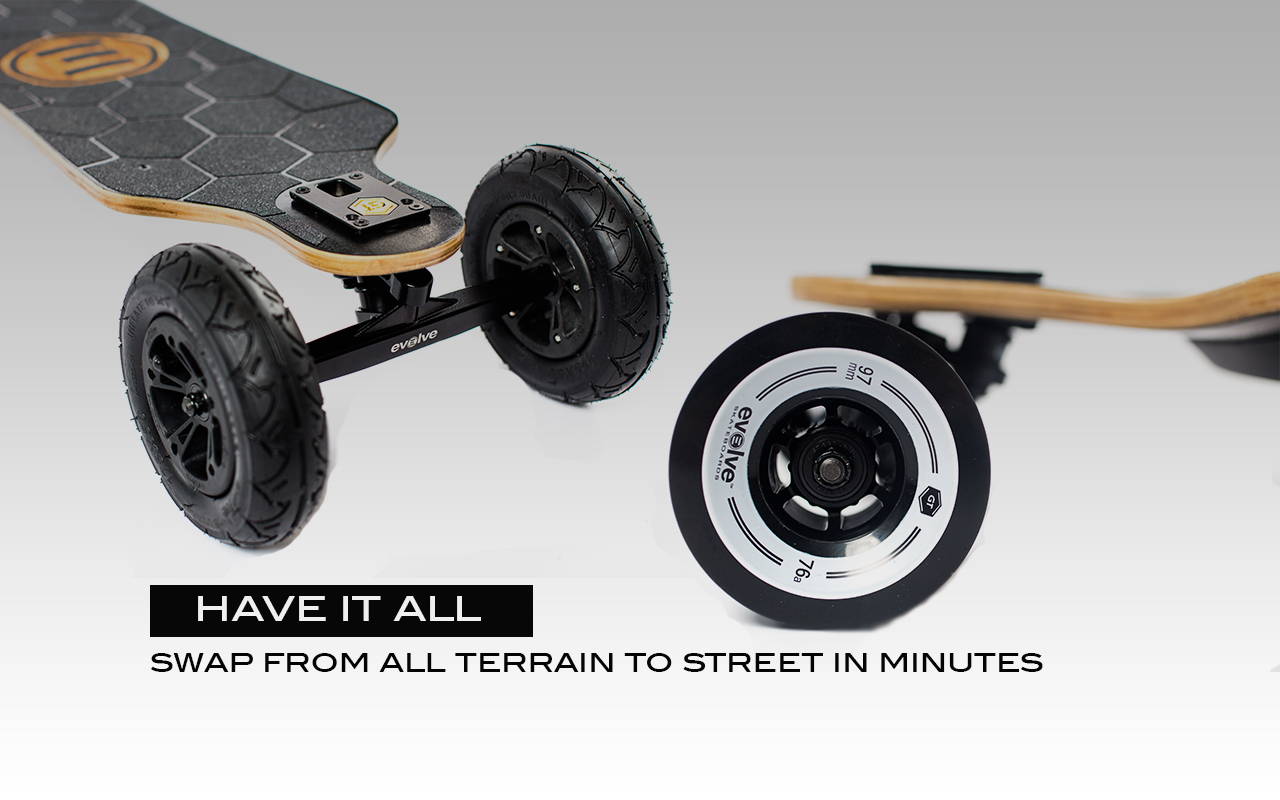 VERSATILITY
With a huge selection of wheel and deck options, Evolve offers a large range of setups. Whether you are looking to commute to work over a variety of urban terrain, carve away the weekend on a water side bike path, or leave the city and hit the trails, an Evolve board can do it all. The unique design of Evolve boards allows for an easy change from street to all terrain setups so unlike other brands, you can choose your own adventure, customise your wheels and gear to suit and be out the door in minutes!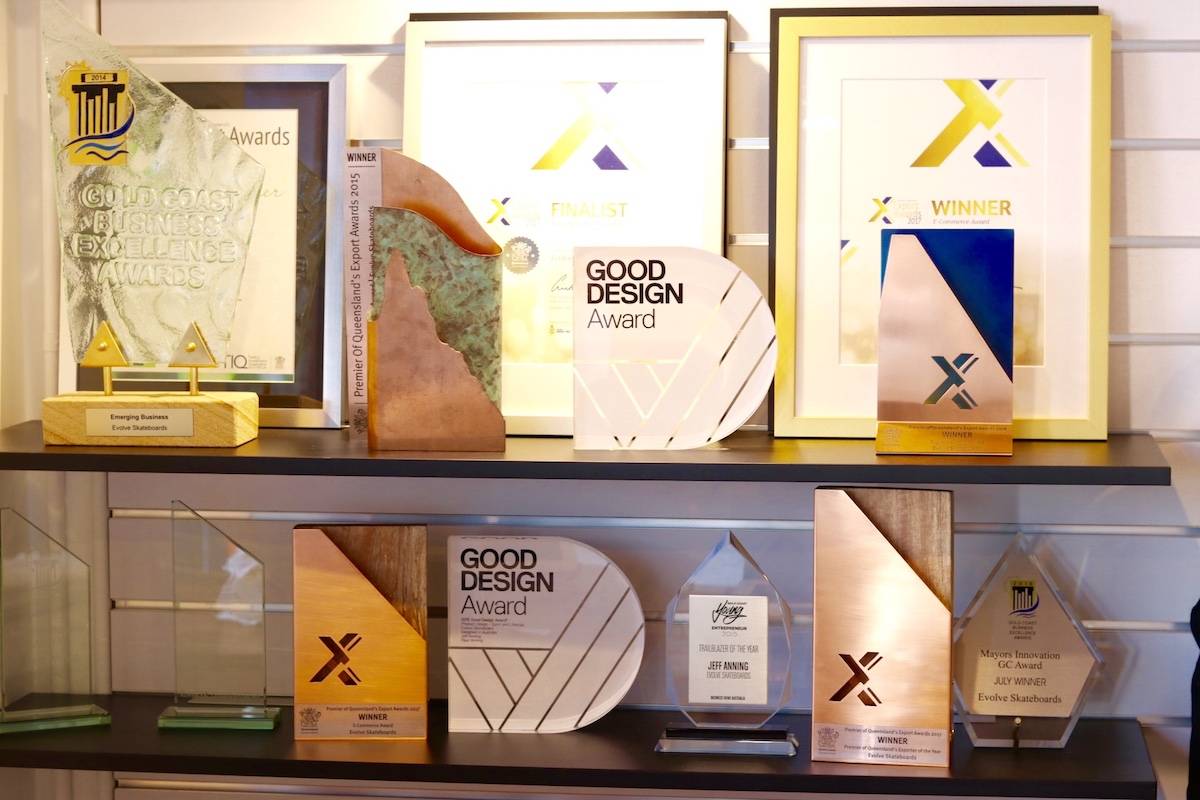 AWARD-WINNING
Since Evolve began in 2012, we have won a range of awards for design and business.
Queensland Export awards (2015, 2016, 2017)
Good Design Awards (2015 2016)
BRW Fast Starters (2015)
Financial Review Fast 100 (2016)