WHAT'S IN THE BOX?
Your new GTR Bamboo Street
Fast charger
R2 Remote, leash, remote case and charging cable
Accessories carry case
Y tool
Spare screws set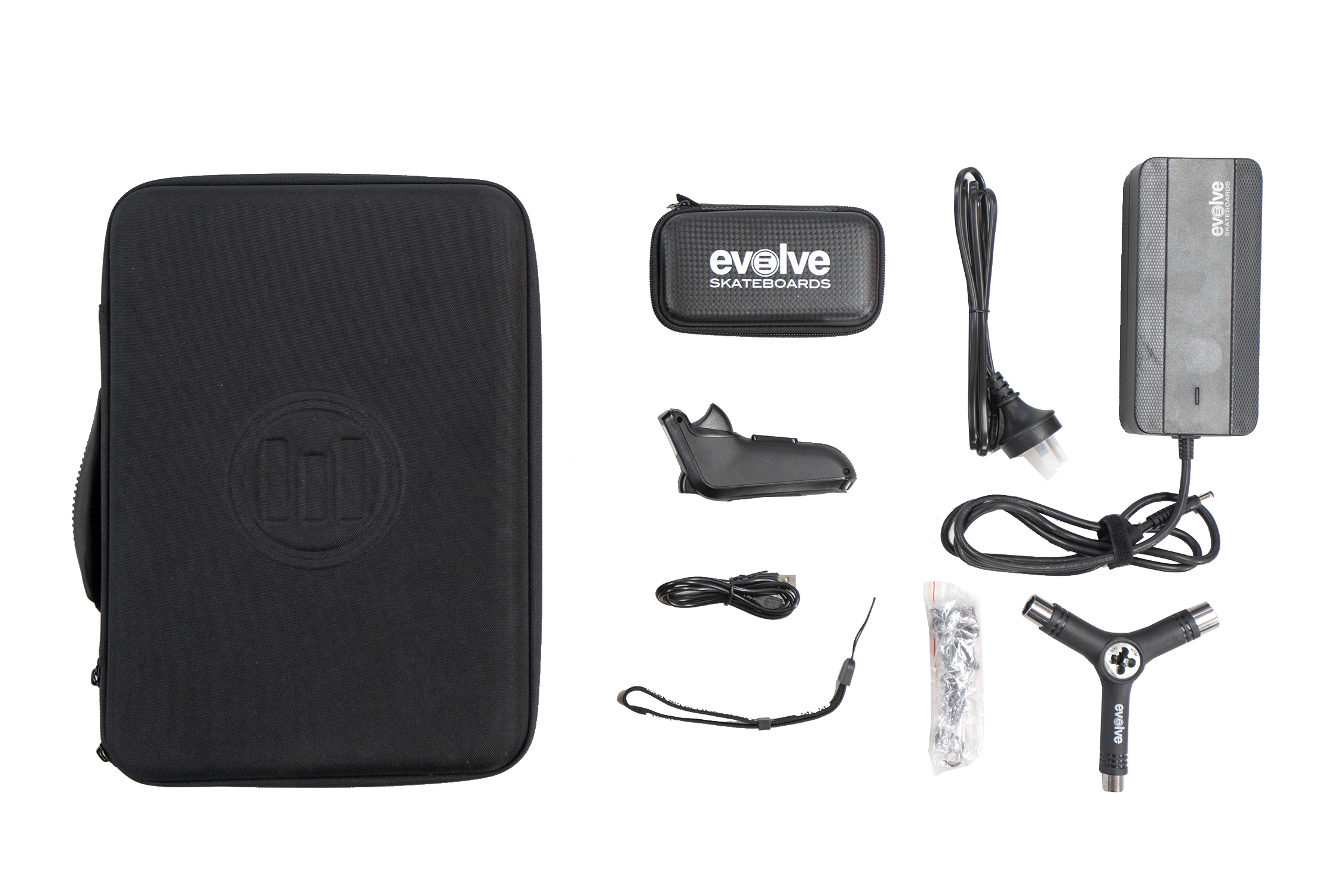 What Are Riders Saying About The GTR All Terain
100%
of reviewers would recommend this product to a friend
| | |
| --- | --- |
| Quality | |
| Performance | |
| Technology & Features | |
This thing is a beast
This skateboard is awesome. The quality is top notch and performance is unbelievable. The ride, the battery, the controller/connection and the styling is perfect. Can't wait to clock up countless miles on this beaut.
| | |
| --- | --- |
| Quality | |
| Performance | |
| Technology & Features | |
Worth every cent!
Have had the board now just over a week. First evolve board and I'm glad I made the decision to go with these guys after having bad experiences with previous hub motor e-boards.
I use this bad boy every day to get too and from work. Really comfy under the feet, the 97mm wheels roll over everything in my path 👌 a lot has gone into this board and you can definitely tell when your on it cruising down the street.
Still early days but so far this board has blown my expectations out the water!
| | |
| --- | --- |
| Quality | |
| Performance | |
| Technology & Features | |
Just Rad
I'm getting on. So it's been a while since I skated properly but I was into my long boarding "back in the day"
You see the thing that my generation is really waiting for are hover boards. The reality is we are now in our 40s and despite the rapid pace of progress still... No hover boards! I know right!?
So now it's a question of when will we get hover boards... I mean this tech may not be available till I'm in my 70s.
This Deck is a perfect fill in. Very little learning curve, increadbly stable and comfortable to ride (Bamboo GT) and long range. The speed is good not over the top compared to slamming a hill on a long board, but still a lot of fun and crucially I will be able to use this into my latter years so I'm ready when decks go wheeless!
At this products price point I am basically it's target demographic, disposable income an having a mid life crisis. And I'm telling you they have nailed me to this Deck!
So pop a Viagra grab out your pads and let's start a middle-aged skater gang! This is the one you want!
Dad in the cube!
| | |
| --- | --- |
| Quality | |
| Performance | |
| Technology & Features | |
Amazing experience!
I am blown away at this boards design and quality is top notch. Oh and she packs a punch to first time on the board nearly went flying from under my feet haha! so far cannot say anything bad about it. In love with my GTR!
Thanks Evolve!
| | |
| --- | --- |
| Quality | |
| Performance | |
| Technology & Features | |
Bamboo GTR Street
Only had the board for a week and have already ridden about 150km. Look forward to finishing work every day to go for a ride. I'm amazed at the range. Advertised as 50km range, but I'm getting around 55 - 60km per charge. Really impressed with everything about the board. Love it!
| | |
| --- | --- |
| Quality | |
| Performance | |
| Technology & Features | |
Customers Who Bought This Item Also Bought